Adding BoardCloud Members
Members belong to one or more committees.
New members can be created in Admin – Manage Members.
Members need to be created before they can be added to committees.
To add a new member, you need to have Admin rights.
Adding A Member
Navigate to Admin – Manage Members.
Then click the Add button on the top left of the Manage Members window. After clicking Add, your screen should look similar to the image below.

Enter your new member's Name, Surname and Email. You can leave the Confirmed field blank.
Then click the Update button above, which is on the same menu as the Add button.
BoardCloud will send a confirmation email to your new member once you click the Update button.
Member Welcome Email
The email your new member receives will look similar to this: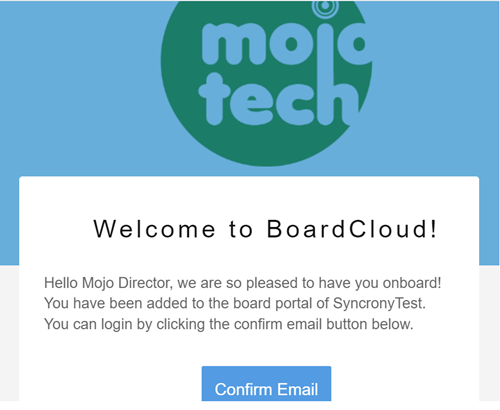 The email each member receives should look similar to the example above. If a company logo has been added, the logo will appear at the top of all BoardCloud generated emails.
See here if your Welcome Emails are not arriving in your member's inboxes.
Confirming and Setting a Password
In order to be confirmed, your new member needs to click on the Confirm Email button in the email and then follow through the process of selecting a new password.
Once the link in the email is clicked, the new member will be directed to a screen where a new password can be set.
The new password needs to be entered twice for verification into the New Password and Confirm Password boxes. (see below)
Once the password is successfully changed, the member will be logged in and will land on the BoardCloud dashboard.