How to Login to BoardCloud
Below is the standard welcome instructions for new members onboarding onto BoardCloud.
Welcome to BoardCloud
Please follow the three simple steps below to login to your BoardCloud Account.
If you need help logging in please read: Logging-in Issues.
Once you have set a password and logged in to your account, you will have access to all committees and meetings and you are a member of.
1
Check for an email in your inbox from BoardCloud Support. Your name will be the first word of the subject Welcome to BoardCloud!
Your email should look similar to this: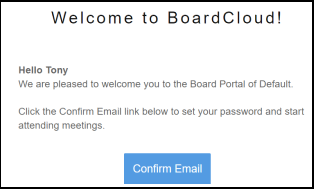 If you can't find this mail, look in your SPAM folder. Still don't see it in SPAM? Then please email support@boardcloud.app or your BoardCloud administrator, who will resend your invite email.
2
Click the Confirm Email button in your welcome email.
This will open a BoardCloud screen, with your company logo and text that looks similar to this image à
Enter a password into the New Password box
The password requirements will disappear as you type and meet the requirements
Confirm your password in the Confirm box
Click the Confirm button
3
You should be redirected to the Meeting Dashboard.
The meeting dashboard should show your upcoming meeting with the Yearly Planner below.
Please go ahead and click on your next meeting and have a look around.
Note: Once you are on a meeting page, you will be able to see details of the meeting. If your administrator has published the meeting agenda, you will be able to view the agenda. If not, don't worry, you will receive an email as soon as it is published.
Any questions?
Please don't hesitate to ask for help!
For email support, email support@boardcloud.app
You are also welcome to book a one-on-one video call. Please follow the link below: https://calendly.com/syncrony/bc-coaching to setup a meeting at a time that suits you.
How to Login to BoardCloud