Changing Meeting Details
Often meeting details entered when creating a meeting, require some kind of a change as the meeting date draws closer.
BoardCloud allows for any meeting detail to be edited from within the meeting page.
Accessing the Edit Meeting Details Screen
To access this screen, click on the 'gear cogs' on the top right of the screen. This will open the Meeting Control navigation. Note the cogs are only visible to administrators and editors. 
To access and edit the meeting details, click on Meeting Details.
Editing Meeting Details
The meeting details editing pop-up looks similar to the image below: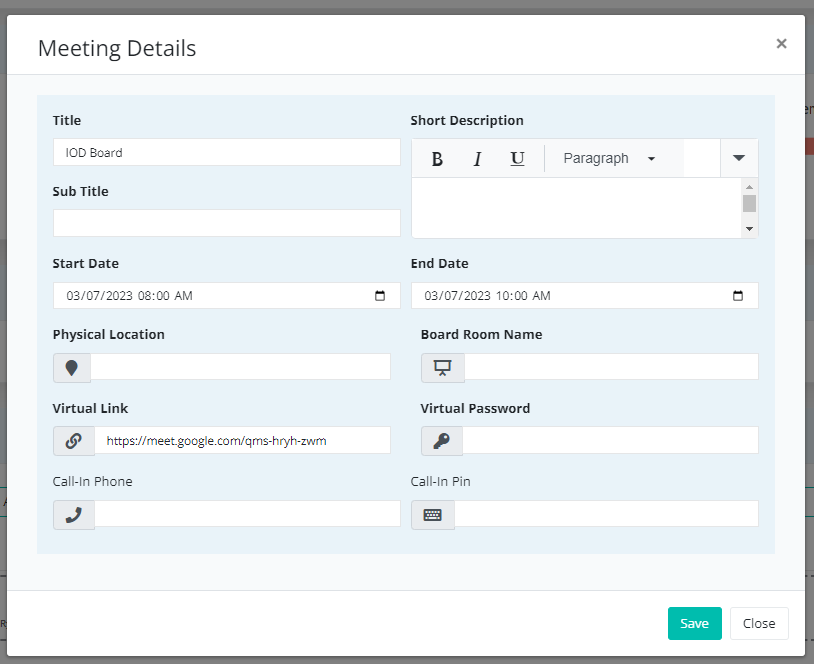 Points to Note When Editing a Meeting in BoardCloud
Almost all of the fields in the form above can simply be changed and saved to update the meeting details. However the items below need some additional care:
Meeting Dates
Changing of meeting dates is no problem at all, however the state the meeting is in, can have some consequences.
If the meeting is in Draft mode, a date change will have no practical effect.
But if the meeting has previously been published, it is incumbent upon the meeting administrator to republish the meeting.
Virtual Link
If a meeting link has changed and needs to be updated, it is necessary (at this stage) to update the video conference link manually.