Meeting Control Functionality (or the Cogs)
Meeting Administrators and Editors have access to a powerful Meeting Control menu that allows for the following functions:
Publishing the meeting
Publishing of the meeting minutes
Editing of the meeting details
Access to board pack settings and security settings
Changing of the cover pages (Default, Committee or Meeting (individual)
Deleting of the meeting
Each of the above functions are explained in detail in the sections listed on the navigation on the left.
Accessing the Meeting Control Menu
To access this menu, click on the 'gear cogs' on the top right of the screen. Note the cogs are only visible to administrators and editors. 
Clicking on the cogs control brings up the Meeting Control menu: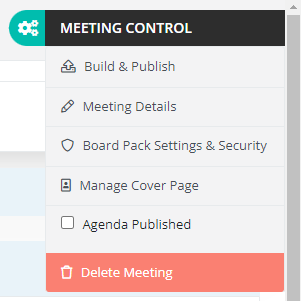 Important: If your Meeting Control menu does not look like the above image, the meeting you are trying to edit may be Closed. If your meeting is closed, the Meeting Details, Board Pack Settings and Cover Page options will be greyed out.
You can re-open a closed meeting, to find out how: