Overview of Document Viewer Functions
The BoardCloud viewer is a responsive web-based PDF document app that reads the special encrypted board documents produced by the Agenda Maker.
Most of the functions of the viewer are self-explanatory and can be picked up by committee or board members even with limited web exposure. We expect that all members will be able to at very least read and browse their board packs right from the start.
The image below shows a document in the viewer, with the most commonly used view functions above the top of the document.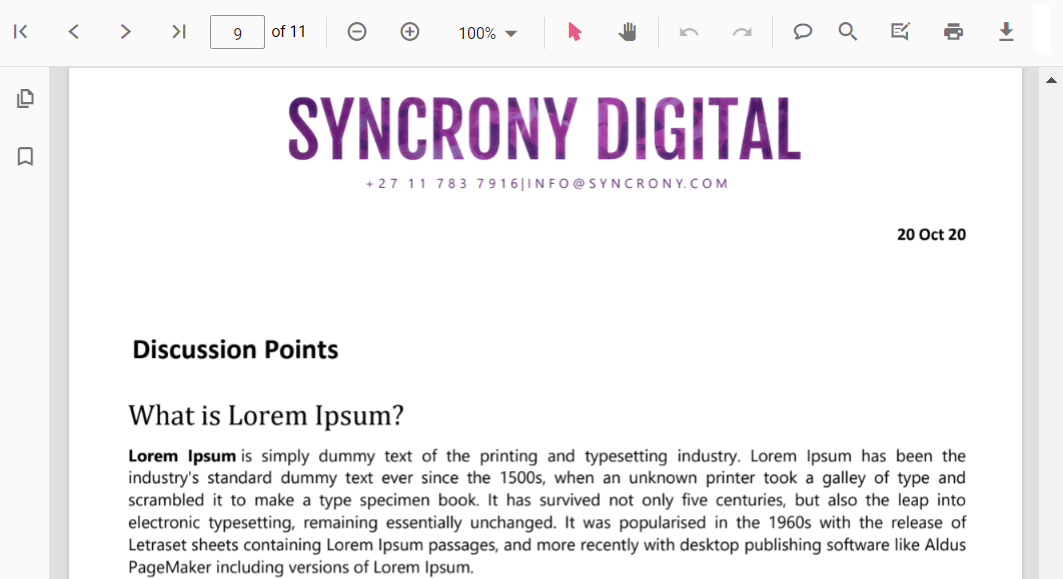 Basic board pack reader functions are on the top row of the reader. Selected functions from left to right are:
Page navigation arrows and page number selection

Page (zoom) percentage sizing options

Text selection tool (Arrow)
Page pan control (Hand)

After the text selection tool is clicked, elements of the board pack will become selectable, as shown below in the Clarke Gable sentence.
Selected elements can be copied and pasted.

There are Undo and Redo arrows for edited text changes
Search box opens with the magnifier tool (on the right in between the basic edit controls)
Print and download icons are on the far right
Note: During production board documents can optionally be password protected and the viewer will open these documents as well.