Add a Meeting
You can create a BoardCloud meeting in a few clicks.
1) Click the Create New Meeting button on the Meetings page. 
2) A form will open where you can add meeting details
3) After you have filled in your meeting details (see Data Entry below), click the Create button and your meeting page will open, ready for you to start creating your agenda.
Create a New Meeting screen should look similar to this: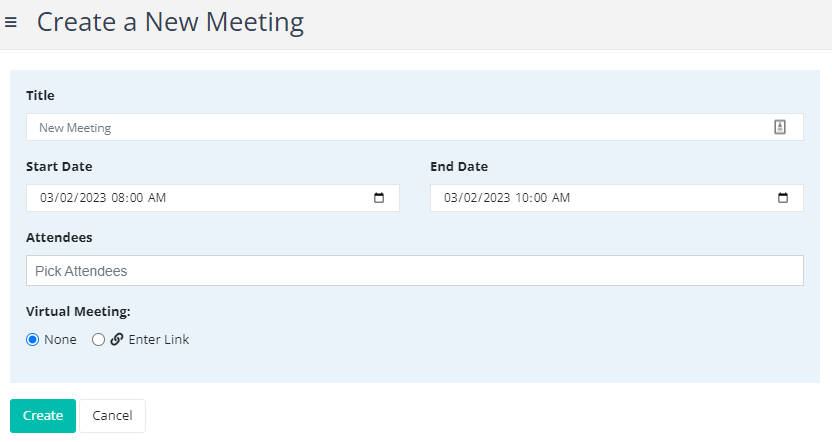 Meeting Data Entry
Meeting data entry is divided into two sections. The section on the left contains the only mandatory entry fields. These are Meeting Title, Start date and time of the meeting and at least one attending member or group.
Minimum Data Entry
Meeting title
Meeting start date and time
Attendee(s)
Adding Meeting Attendees
The system expects at least one attendee per meeting. It can accommodate the invitation of one or more committees as well as individual members.
Guest attendees can be added from the meeting detail page page:
Optional Meeting Field Virtual Meeting Link
A link to a virtual meeting can be optionally be manually added. 
First make you you have copied the meeting link from your video conferencing system. 
Then click the Enter Link radio button under the Virtual Meeting section. An entry field for for your 

Simply copy your video link meeting and paste it into this field. You should test the link to make sure it works. 
 Once a link is added, it will be surfaced on the Meeting Dashboard screen as part of meeting details. (The system will attempt to label the link by the video meeting system the link targets)
Find out more technical details about links API's and keys:

Some notes about data entry.
End Meeting dates are automatically set to 2-hours after the meeting start time (on the same day)
The system will warn for (but will not prevent the saving of)  meetings that:

Meeting dates in the past
Meeting dates that fall over weekends 
Extended Data Entry Section
The data entry section on the right is designed for the entry of meeting details that are not essential and can be added on an as needed basis.